All you need to know about plant protein
Since every fitness amateur has ever sampled milk-based whey or at least has seen the well-known can of Gold Standard whey protein from Optimum Nutrition it goes clear that animal protein is quite popular.
We mean that it is hard to find the one who wouldn't name at least five sources of this kind of supplement. That's why it is necessary to raise awareness among amateur gym-visitors about plant protein.
Like every product it has its advantages and disadvantages, moreover, when compared to the titan of sports nutrition - animal-based protein - there are a lot of discussions of what is really better.
Here we'll try to dismantle all the main views and give you a brief description of each one, of course, proven by studies.
Arguments given by vegans
Talking to many of today's nature defenders it seems that every second one would say the next about our subject of investigation: "Protein is protein, no matter where it comes from. Your body (and muscles) don't care about the origin of the protein macronutrient that you're ingesting after a hard workout. It will be utilized in the same way. This is why there are plenty of vegetarian bodybuilders and strength athletes who have excelled at their particular sport on a plant-based diet."
In addition, happens that plant-based sources of protein come out to be cheaper to buy, especially when you purchase them in bulk. 
Plant-based powder supporters insist on the fact that it is definitely smart for the wallet to eat more plant-based protein. And that's for sure since animal meat and fish - traditional sources of protein - are typically the most expensive items on the grocery list.
They suggest that increased production of plant protein alone will not necessarily be a solution to the problem of meeting increasing world needs for dietary protein. Products from plant protein sources need to be developed which will compete with animal protein sources.
According to the study "World protein supplies: the role of plant protein" conducted by Guy Fauconneau, the amounts of protein available for consumption (but not necessarily actually consumed) in the various regions of the world vary from 50 to 100 g per day per inhabitant for populations living under very different socioeconomic conditions.
For half of the world population, only about 50 g of protein per year per inhabitant is available, of which 80% is plant protein.
On the other hand, for one fourth of humanity, the average amount of protein available is 90 to 100 g per day per inhabitant of which more than half is of animal origin, in relation to the total quantity of available energy, protein represents from 10 to 15% of available calories, but this value may reach 20% if estimated relative to the energy actually consumed in the developed countries.
What about proven benefits of plant powder, a new study of 2017 adds to the growing body of evidence indicating that the source of dietary protein may play a role in the risk of developing type 2 diabetes. The researchers from the University of Eastern Finland found that plant protein was associated with a lower risk of type 2 diabetes, while persons with a diet rich in meat had a higher chance.
In other words, the findings indicate that a diet preferring plant protein may help prevent type 2 diabetes.
Many experts also believe that having a daily protein shake on the plant basis may lower cardiovascular disease (CVD) risk factors, as far as numerous epidemiologic and intervention studies have evaluated their respective health benefits.
That's why numerous observational and intervention studies, one of which was published in the Advances in Nutrition, have sought to address the question of whether plant and animal protein differ for reducing CVD risk factors.
However, evidence to date is inconclusive and is likely to remain so, because it is difficult to isolate the independent effects of specific proteins. The contribution of other components in the plant or animal food source and the background diet are essential considerations. To minimize CVD risk, evidence supports plant-based dietary patterns that emphasize protein-rich plant foods and include some animal-based sources of protein (e.g., fish/seafood, eggs, low-fat dairy, poultry, and lean meats) in place of refined carbohydrates and processed meats.
The opposite arguments
Can't agree that protein is merely a molecule that helps build up bones, muscles, and tissue, but all protein sources aren't equal.
The amino acids that make up protein are important, and not all protein sources contain a full batch of the essential aminos, whereas plant-based powders have to have them added, which can be less effective.
A 2013 study published in Nutrition Journal had 24 guys lift weights and supplement with either whey protein or rice protein (admittedly at a high dose) for eight weeks.
Researchers found no difference in metrics like muscle thickness, fat loss, strength, and power.
Some claim that soy protein can affect hormone levels in men and spur breast growth, but recent Go with whichever you prefer. Some guys say that whey protein upsets their stomachs; if that's the case for you, go with research by St. Catherine University in Minnesota showed that soy protein isolate did not affect any levels of the hormones tied to reproduction in men.
Research in Journal of the American College of Nutrition in 2013 found that when whey was stacked up against soy supplements after resistance training, those taking whey ended up with almost double the lean muscle mass gains. A recent study from Florida International University looked at MMA fighters who supplemented with either whey or rice protein during intense training. They found no significant differences in body composition after six weeks.
Verdict
There are differences between protein sourced from animals and protein derived from plants, but they aren't significant enough to recommend one over the other.
With whey protein, you're getting a complete profile of aminos, but a multisource plant protein powder can cover the bases.
Go with whichever you prefer. Some guys say that whey protein upsets their stomachs; if that's the case for you, go with whey-free protein.
Top 10 nature-friendly sources of protein
In case you are a vegan, you want to try something new or just willing to buy cheaper sources of protein, here is our list of the best plant-based protein sources:
1. Beans
All legumes are leaders in protein content among plant products. Their main advantage is that these proteins are absorbed much easier and do not contain fat. Depending on the variety, there are between 6 and 10 grams of protein per 100 grams of beans.
2. Lentils
Another plant of the legume family has been known since the days of the ancient world. The Egyptians made bread from lentil flour, and the inhabitants of ancient Rome used it as a medicine. 100 grams of this cereal contains approximately 25 grams of protein. Another plus is its cooking speed (about 15 minutes).
3. Quinoa
The product included in the top twenty of the most nutritious food in the world. The main feature of quinoa is that it contains significantly more vitamins and minerals than other similar products have, while the protein content is about 15 grams per 100 grams of dry cereals.
4. Nuts
Different types of nuts have different compositions, but peanuts and almonds are the leaders in protein content (25 grams and 21 grams, respectively). Nuts have a low glycemic index, which means they can be included in the diet of people with diabetes.
5. Soy milk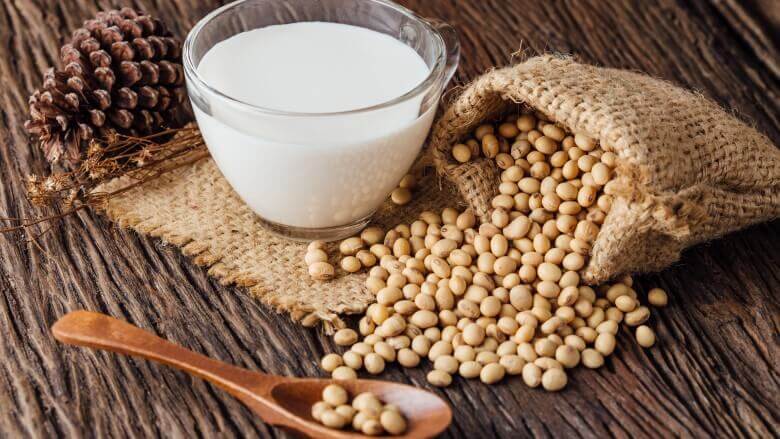 Soy milk, like rice and almond milk, contains about 3 grams of protein per 100 milliliters. If you stick to a vegetarian food system or fasting, simply replace it with vegetable counterparts, which are additionally enriched with calcium and vitamin B12.
6. Chia
The percentage of protein in chia seeds is approximately the same as meat has - about 23%. That is why this product has won such admiration among vegetarians and people seeking to lose weight.
7. Chickpea
Chickpea, or, as it is also called, chickpeas, is actively used in vegetarian cuisine and is famous for its high nutritional value. 100 grams of chickpea contains as much as 19 grams of protein, as close as possible to egg quality, which makes the seeds of this pod plant an excellent substitute for animal products.
8. Spirulina
Spirulina is a blue-green algae that contains the essential amino acids required for protein assimilation. It's rich in chlorophyll, which you can see by the dark green color. The flavor takes some getting used to, but it's a nutrient-packed, vegan-friendly option. It tastes best as an add-in to smoothies that include citrus or fruits like mango, peaches, or pineapple.
9. Nutritional Yeast
Nutritional yeast, a food additive grown on molasses and treated to be "inactive" (as compared to "active" baking yeast), is known for adding a "cheesy" flavor to many dairy-free recipes. It's loaded with amino acids and B vitamins. Amino acids are essential for protein synthesis, and B vitamins help covert the food you eat into usable fuel for the body.
10. Almonds
Almonds are a standard snack food and have increased in popularity among those following a grain-free diet.  A study showed that eating 1.5 ounces of almonds per day can lower your cholesterol, keep your heart healthy, and even reduce belly fat!